Almerimar Golf Course
THE DOYEN IN THE WHOLE PROVINCE
Built in 1976, the Almerimar Golf Course is the doyen in the entire province of Almeria. The designers, Rob Kirby and Gary Player, came up with a golf course that combined water hazard and palm trees for more play possibilities and challenges.
The Golf Course
The Almerimar Golf course has 27-holes in an area of approx. 802,000 m² set in a beautiful landscape of palm trees and lakes.

As the only golf course with 27-holes in the province of Almeria it offers enormous play possibilities and challenges.

 
Casa Club
The Club House has 3 floors with an area of 900 sqm each.

It is strategically located in the golf course near the practice area and within a short walking distance from Hotel Almerimar.

The ground floor boasts a wide reception, a pro-shop, caddy master, garage for 60 buggies, electric cars, club room with a storage capacity of up to 800 bags, changing rooms and staff offices.

The services of the Club House include a large cafeteria, restaurant and social lounge, surrounded by a large porch overlooking the golf course.

The Almerimar Resort Clubhouse is another perfect setting for different types of events such as business lunches, presentations, awarding ceremonies, as well as celebration with friends or family.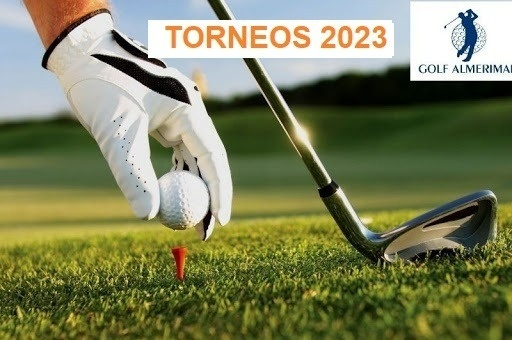 Golf Tournaments Almerimar 2023
JANUARY DAY 27 CIRCUITO SENIOR ANDALUZ
FEBRUARY DAY 17 SMALL CIRCUIT
MAY DAY 28 CIRCUIT OF PROFESSIONALS ANDALUSIAN
JUNE DAY 3 LE CLUB (REGULARITY)
JUNE DAY 10 BENEFICIAL TOURNAMENT (REGULARITY)
JUNE DAY 16 SMALL CIRCUIT
JUNE DAY 17 SUMMER TOURNAMENT BRIDGESTONE (REGULARITY)
JUNE DAY 30 CIRCUIT HEINEKEN LEVANTE (REGULARITY)
JULY DAY 8 BGF TOURNAMENT (constructions) REGULARITY
JULY DAY 15 VIRGIN DEL CARMEN (REGULARITY)
JULY DAY 22 ALMERIA GOLF CENTER (REGULARITY)
AUGUST DAY 5 MEMORIAL JOSÉ LÓPEZ REQUENA (REGULARITY)
AUGUST DAY 12 MATCH QUALITY (REGULARITY)
AUGUST DAY 15 VIRGIN OF AUGUST (REGULARITY)
AUGUST DAY 19 OMEGA TOURNAMENT (REGULARITY)
DECEMBER DAY 8 - 9 YACHTING GOLF
DECEMBER 16TH GRAND FINAL OF REGULARITY
Almerimar Tournament Calendar 2018
Golf School
A warm welcome to the Almerimar Golf School, where you can enjoy excellent facilities and attend golf lessons instructed by our qualified teachers.

We offer a wide range of courses for adults, children and groups.

The courses are designed for all levels, from beginners to advanced players. All our courses include the balls and clubs that you may need to take part of the class.